Well what a hectic week/end!
Thursday Kanin lost his very first tooth! How exciting! We were totally unprepared though! I had to make him a pillow case with a pocket for his tooth and the tooth fairy needed to get writing a letter! ;)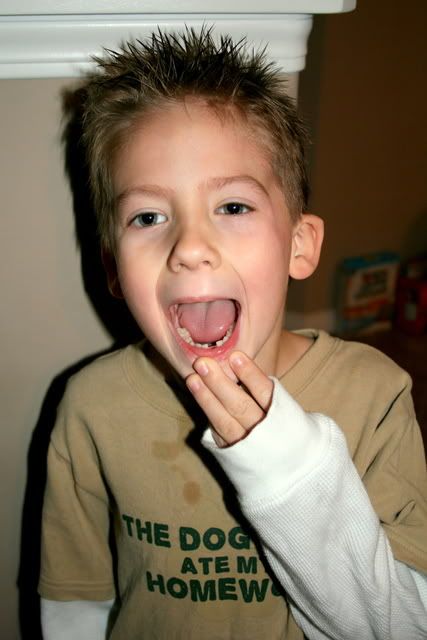 Friday started with what should have been a routine appointment. Trinity was to go to the dentist to have a filling. BUT when we got there we found out that she needed extractions, because the cavaties had gotten so bad.
This did not thrill me as the last dentist let us wait so long for an apt with a specialist when she should have treated it as an emergency back then! So alas, here we are, needing to have my beautiful Miss Trinity's 2 front teeth pulled well before she's due to be missing them! We got to the specialist who will do the extraction later on friday and she said that the best way is to put the kids under. I'm so not looking forward to another hospital trip and ANOTHER baby under anesetic! But the dentist seems fabulous.
Friday evening and Saturday I worked on orders. I had 4 new ones come in this week, so I have to get busy! I'll be working hard all week. Then it was visiting with friends on saturday evening and off to the doctor sunday morning to have paper work filled out for Miss Trinity's extraction. They need a form filled out by your family doctor. So 2 hrs in the waiting room for that, then rush home have lunch and take the kids to the afternoon movie (Madagascar 2) that we promised for them both being so good about their teeth this week!
Then we had to go visit Great Gramma in her nursing home for her 82nd birthday! We had a nice visit. She loves to see the kids.
Tonite it's baths, stories betime for the kids and more work for mommy! I need a vacation! ;)